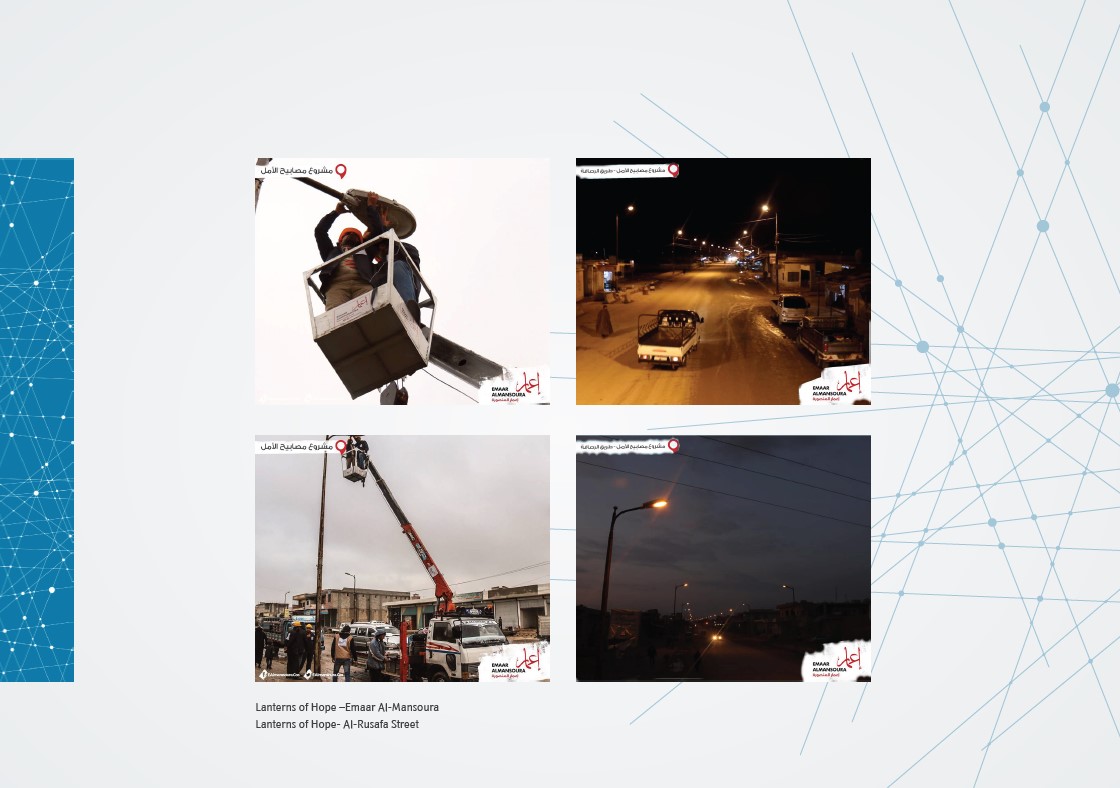 "Lantern of Hope" light up Al-Mansoura's streets
For residents of the Al-Mansoura village in the western countryside, the day ends early. As soon as the sun sets, most aspects of life almost vanish , the streets become deserted and commercial activities entirely come to a halt after all street lamps that used to dot the streets got destroyed as a result of fierce battles that took place in the town.
This has negatively affected the lives of locals, and increased thefts as well as caused trade to decrease in the town which has for long been a commercial hub for neighboring villages.
The Emaar Al-Mansoura team identified the town's residents' needs  and based on their assessment they launched the "Lanterns of Hope" project under the Father Paolo Grant, offered by the Civil Society Support Center, to restore life to the town by rehabilitating lighting units in Al-Rusafa street, one of the main commercial roads in the area that stretches over 1 kilometer.
The Ema'ar Al-Mansoura organization signed an MoU with the people's municipality, the authority in charge of street lights. The organizers then coordinated with the electricity committee and made an initial assessment to identify the damage to the main lighting line and determine the amount of needed maintenance work as well as the required electric devices that need replacement.
The project started with maintenance work and the installation of 80 lighting units in Al-Rusafa Street. Efforts also included the replacement of bulbs and transformers. The Emaa'r Al-Mansoura team oversaw the implementation of the project  ensuring the occupational safety rules were thoroughly followed in terms of the provision of the appropriate clothing and equipment for technicians.
A total of 150 stores benefited from the "Lanterns of Hope" project, and nearly 5000 residents. In order to maintain its sustainability, the project was handed over  by the Emaar Mansoura Organization to the people's municipality, the authority responsible for the area.
The project contributed to the local economy by providing temporary job opportunities  for 15 workers in the project, purchasing the necessary pieces of electricity from the local markets, and enhancing purchasing power during the evening hours after the new lights entered into service.
The "Lanterns of Hope" project also strengthened partnership and coordination with local authorities and the local community, whereas the Department of Agriculture in the town provided 5 lighting fixtures to compensate for damaged equipment in the street.
Regarding the project's impact on local, one of the Al-Rusafa street  store owners said: "we are now able to open our stores until later in the evening, this helped improve our revenue".
Others also praised the team and their well manners towards the beneficiaries as well as their efficient and fast work despite the bad weather conditions that made their task more difficult.