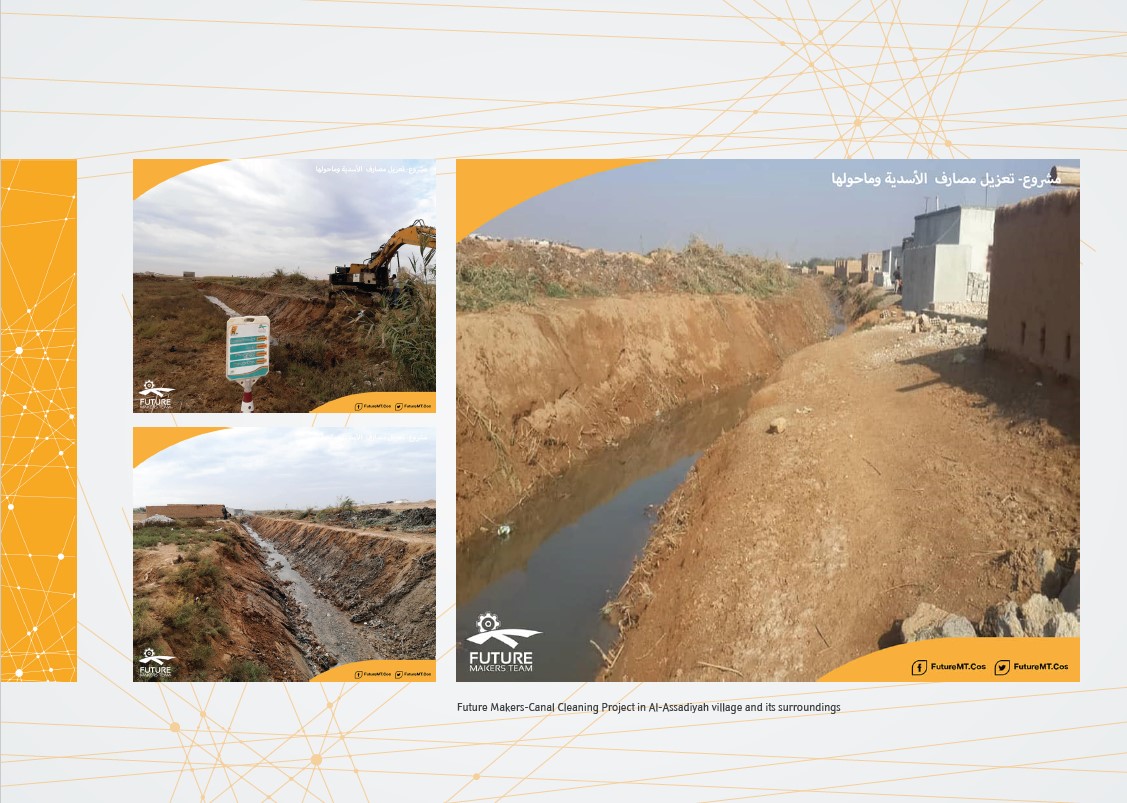 Water flows again in Al-Assadiyah
A total of 4000 meters of drainage ditches in Al-Assdiyah villager were abandoned for years, accumulating dirt and soil, unable to dispense of dirty water until the team of future makers decided to take the initiative and intervene to clean them under the project of the "Asadiyah drains" as part of the Father Paolo Grant.
The accumulation of dirt in the drainage system led to soil salinization in farm lands. On the other hand, local population, suffered tremendously from increasing numbers of harmful bugs and insects, while, sometimes, due to blocked drainage, dirty water even reached locals' houses.
Before the project took off, the Future Makers team analyzed farmland in the targeted area, examined the numbers of the affected population, as well as determined the area of ​​agricultural land affected by the problem. Based on their assessment of the situation, they cleaned 4000 meters of drains in Al-Asadiya village.
This process was carried out in two phases, each of which covered 2 km of land, despite the challenges of soil erosion and weather degradation during implementation, the team successfully managed to finish the task. "The drain cleaning in Asadiya" project was launched in cooperation with the Committee on Agriculture and Irrigation in the civil council of the city of Raqqa.
After determining the project's technical, financial and human requirements, a contractor was commissioned to provide the required equipment and tools,
After cleaning and maintenance work was completed, water returned to its normal levels and soil salinization  level receded, which encouraged farmers to go back to their usual farming activities. The project is estimated to have benefited 1400 Donum of land. On the other hand, The project helped build a strong relationship between Future Makers organization and village farmers while it also increased awareness with regards to the importance of regular cleaning and maintenance of the drains. This new-found awareness along with the local agriculture and irrigation committee's efforts shall ensure the sustainability of the project and guarantee the continuous impact it had on the village's residents.
After ensuring that the drains were functioning properly and guaranteeing the cleaning work quality, the team met with a group of farmers from the Al-Assadiya village before handing over the project to the agriculture and irrigation committee.
Residents received the project with positive feedback valuing the team's efforts after suffering form water shortage for a while and were able to sense the difference upon the completion of the project which, as a result, led to local requesting more projects to be implemented by the CSO especially ones that focus on the agricultural infrastructure in the region.
The project on the project especially with regards to my field of study in terms of procurement and financial reporting"